COMMUNITY PARTNERS
The Italian Language Centre is committed to forming partnerships with local and oversea charity organizations whose goal is to improve quality of life, provide educational opportunities, and care for people who are disabled or are living in impoverished conditions. Currently ILC supports the following not for profit organisations.
---
The Foundation For Water and Education, Cambodia (FWEC) is a non-political, non-religious organisation. FWEC identifies poor communities and families in the rural surrounds of Siem Reap who are in desperate need of the basic necessities to lead a healthy life.
This group provides them with clean water, improved nutrition and opportunities for better education and economic improvement.
The FWEC was founded in 2010 by Chantrea Chuuon, a tour guide who grew up in a poor rural area in Battembang Province. Chantrea travels around Cambodia with his travel business. He volunteers his time to supervise the building of new wells, whilst liaising with community leaders, families in need and educators.
His work is supported by an enthusiastic team of highly motivated volunteers. These include Graciela Andrade and Tina Etherington from Rome, Italy, Paul Grady from Oregon USA and Maria Hicks from Melbourne, Australia who apart from fund raising, are regular field workers in Cambodia. These FWEC volunteers are committed to improving the lives of the poor in rural Cambodia. For more information about FWEC Google Foundation for Water and Education Cambodia or see the website
www.fwe-cambodia.org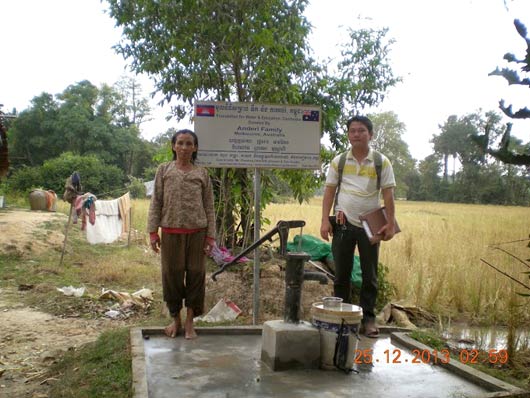 ---
Bayley House is an accredited organisation which provides support services for adults with intellectual disabilities through the delivery of programmes in the areas of Day Activities, Supported Residential Accommodation and short term Respite. Bayley House has been an integral part of the Bayside community since 1951 and is fully compliant with the Victorian Disability Service Standards.
http://www.bayleyhouse.org.au